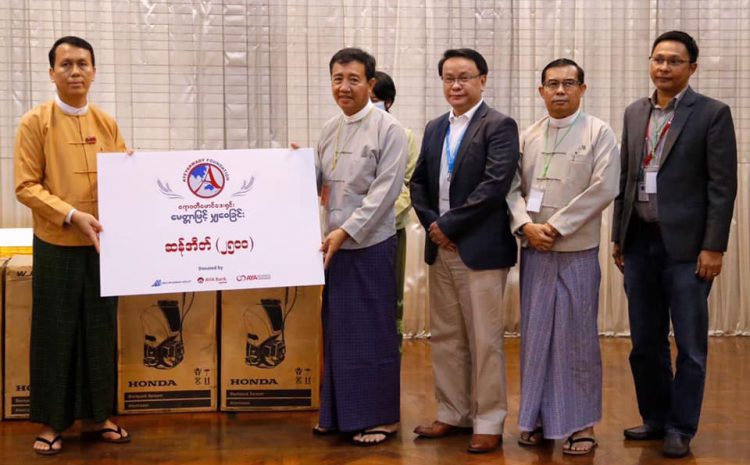 The Ayeyarwady Foundation donates 15,000 bags of rice to the areas in need due to COVID-19 in Myanmar
Ayeyarwady Foundation Chairman U Zaw Zaw and board members discussed and has decided to donate 15,000 bags of rice, total worth of approximately MMK 4,000 lakhs, through state governments to the all the regions in Myanmar which are affected during COVID-19.
Starting from 6 April, the Irrawaddy Foundation has decided to continuously donate 2500 bags of rice to Yangon Region Chief Minister U Phyo Min Thein, 2500 bags of rice to Mandalay Region Chief Minister U Zarni Aung and Mayor Dr.Ye Lwin, 1000 bags of rice to Sagaing Region Chief Minister U Myint Naing, 1000 rice of bags to Bago Region Chief Minister U Win Thein , 1000 rice of bags to Kayah State Prime Minister U Al Phaung Sho with the total of 8,000 bags of rice have already been donated. The remaining 7,000 bags of rice will be donated to the remaining regions and states in the coming days.
The Ayeyarwady Foundation is actively involved in the protection of COVID-19, providing health care and living supports for health workers. Moreover, the Irrawaddy Foundation also donated necessary hospital supplies and supported to the Facility Quarantine Centers for the returnees. The Irrawaddy Foundation has already spent more than MMK 8,300 lakhs for the prevention of COVID-19 and contributed additional 15,000 bags of rice that is equivalent to MMK 4,000 lakhs.